Dave Birkett

| Detroit Free Press
CHICAGO — Free Press sports writer Dave Birkett grades the Detroit Lions after their 34-30 win over the Chicago Bears at Soldier Field on Sunday:
Quarterback
Matthew Stafford was at his best when the Lions were backed up near their own goal line late in the fourth quarter. He completed six straight passes for 96 yards on the drive and threw a beautiful touchdown to Marvin Jones. Stafford's first touchdown of the day, to Quintez Cephus late in the first half, was an even prettier dime, when he slid out of the pocket to his right and motioned the rookie to go deep. Stafford did miss a few deep shots to Jones in the second quarter, and he had a careless interception on a tight end screen to Jesse James. But his clutch play outweighed any early inaccuracies and he completed 27 of 42 passes for 402 yards for the day. Grade: B-plus
Running backs
Adrian Peterson handled the bulk of the backfield work with D'Andre Swift out for a third straight week. He scored two touchdowns, plowing over a pair of defenders on his game-winning 5-yard run. Peterson had just one big play, a 15-yard gain through a large hole, but he largely got the yards in front of him. Kerryon Johnson had three carries for 3 yards before leaving with a late knee injury. Grade: C-plus
Wide receivers/tight ends
I thought Jones played his best game of the season, and not just because he had eight catches for 116 yards and a touchdown. Jones ran sharp routes over the middle, got his nose dirty as a run blocker and generally seemed to play with a purpose. T.J. Hockenson made a nice block on a bubble screen to Jamal Agnew that went for 19 yards. He finished with seven catches and would have had a touchdown on a 14-yard grab near the goal line if he stayed on his feet. Danny Amendola had a quiet day before back-to-back fourth quarter catches helped set up Jones' touchdown, Agnew was too hesitant turning the corner on a fourth-and-1 end around that went for no gain on the Lions' opening drive, and Cephus showed veteran savvy to get free on his touchdown but ran the wrong route on Stafford's first incompletion of the day. Grade: A-minus
Offensive line
The Lions had an impressive day pass blocking against a good Bears front, allowing just two sacks on 44 dropbacks. Khalil Mack beat Matt Nelson, who replaced an injured Tyrell Crosby in the first half, with a good inside move to force Stafford to step up in the pocket and into Bilal Nichols' arms for one sack. Taylor Decker allowed too much pressure on a third down incompletion, when Stafford got hit and missed an open Cephus downfield, but the tackles did a good job keeping width in the pocket. Jonah Jackson drew a holding flag as part of offsetting penalties, and the line did not get enough push in the run blocking department before Peterson's winning score. Grade: B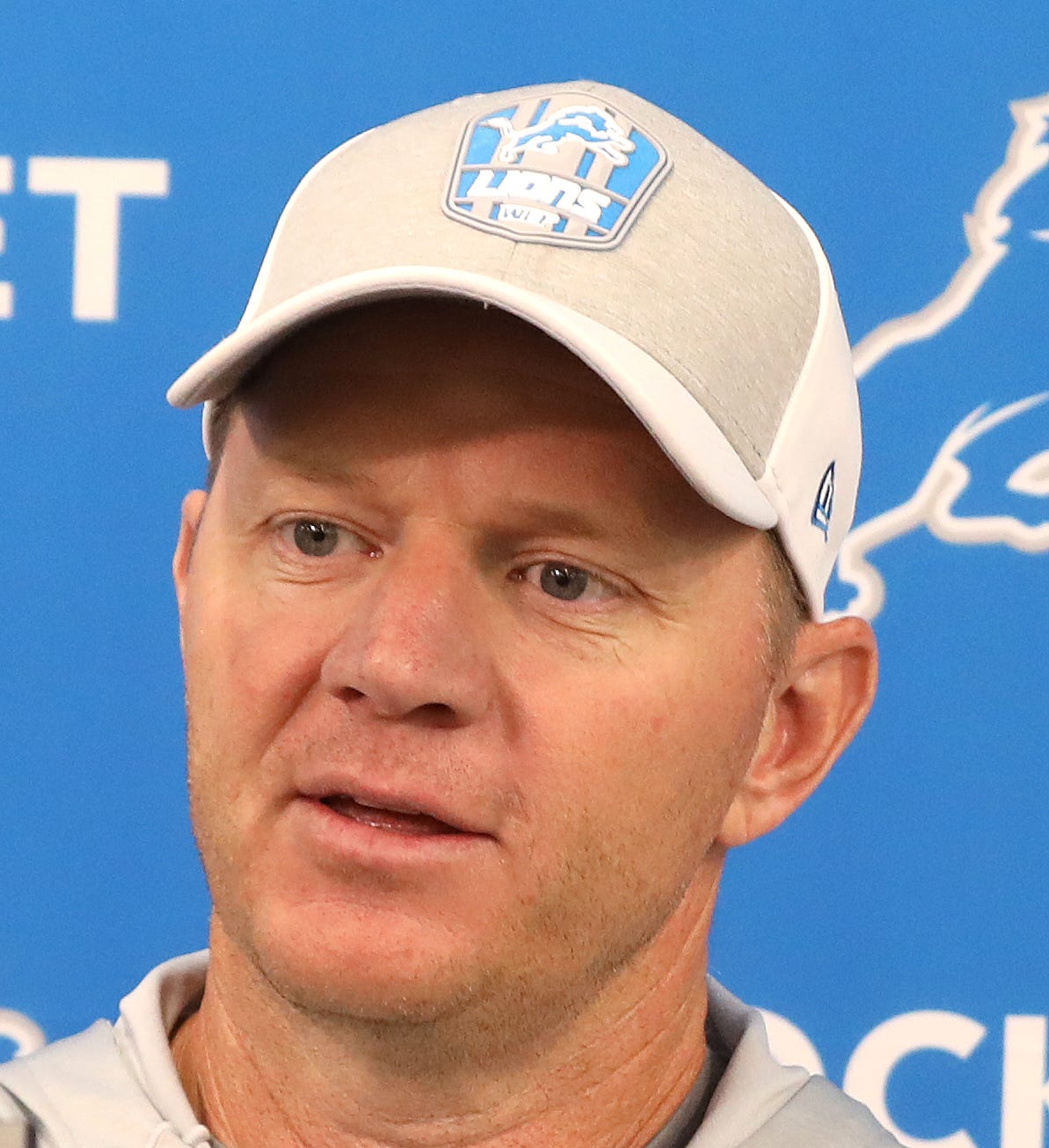 Detroit Lions interim coach Darrell Bevell on win vs. Chicago Bears
Detroit Lions interim head coach Darrell Bevell lauded his team Dec. 6, 2020, after its comeback win on the road vs. the Chicago Bears.
Defensive line
The Lions did not play particularly well in the front seven — until the Bears' final two drives. Romeo Okwara had a strip-sack, John Penisini recovered the fumble to set up Peterson's touchdown and Kevin Strong teamed with Reggie Ragland to stop David Montgomery on Chicago's final fourth-and-1 play. The Bears, the worst rushing team in the NFL, rushed for 140 yards, and Okwara, Frank Herron and Everson Griffen all had neutral zone infractions, with Griffen's coming on third-and-6 in the third quarter. Griffen couldn't catch Darnell Mooney on one third-and-7 drag when he dropped into coverage, and Okwara and cornerback Justin Coleman missed tackles on Montgomery's second touchdown run. If not for the big plays at the end, this grade would be lower. Grade: C-plus
Linebackers
Ragland had just two tackles Sunday, but both were huge plays. Along with his fourth-and-1 stop, he shot a gap to throw Montgomery for a 3-yard loss in the fourth quarter. Jamie Collins led the Lions with 10 tackles, but as usual this group shares in the blame for Chicago's big rushing day. Collins got knocked to the ground on one of Montgomery's touchdown runs and missed a tackle on Anthony Miller on Chicago's two-minute drive in the first half. Collins did make a stop for loss on a third quarter run blitz. Jahlani Tavai made four tackles but once again neither he nor Christian Jones made an impact play. Grade: C-minus
Defensive backs
The Bears tied their season high with 30 points, which means it was not a great day for any facet of the Lions' defense. Will Harris overran a tackle on an early 12-yard run by Cordarrelle Patterson, Amani Oruwariye whiffed on a tackle on a bubble screen to Mooney in the first half and Tracy Walker allowed Patterson to reach for a first down on a third-and-4 play in the fourth quarter when Walker met him 2 yards behind the sticks. Jayron Kearse did break up a third-and-10 pass intended for tight end Cole Kmet, but he also drew a personal foul on Chicago's final drive. Playing shorthanded in the secondary because of injuries and with little help from the pass rush, the Lions allowed the mistake-prone Trubisky to complete 26 of 34 passes for 267 yards. Grade: C-minus
Special teams
It was not a great day for the Lions' special teams, either. Patterson returned Matt Prater's opening kickoff almost to midfield, and Prater — who surprisingly handled kickoff duties instead of punter Jack Fox — spent most of the rest of the day kicking away from the NFL's most dangerous return man. Prater missed an extra point after offsetting penalties and did not try a field goal, and Fox had an off day punting with a long of just 45 yards. On the bright side, Okwara blocked an extra point that proved to make a huge difference, as the Bears needed a touchdown to win at the end of the game instead of a field goal to tie. Grade: D-plus
Coaching
Give interim head coach Darrell Bevell some credit for the resilience the Lions showed Sunday, fighting back from 10 points down with 3 minutes left to win in dramatic fashion. That's something the Lions rarely showed under Bevell's predecessor, Matt Patricia, and players said Bevell's have-fun approach was a big reason why. Bevell did not make any crucial time management or challenge decisions, though I might have used a timeout before the two-minute warning at the end of the game. Offensively, the Lions seemed to take more deep shots than usual, which was good to see. I like the aggressiveness of going for it on fourth-and-1 on the opening drive even though the play failed. Defensively, the Lions are not a very good team, but at least Cory Undlin's unit played better in the second half. Grade: B-plus
[ It took Darrell Bevell one game to do something Matt Patricia never did ]
Contact Dave Birkett at dbirkett@freepress.com. Follow him on Twitter @davebirkett.