Continuing to fill the offseason void familiarizing ourselves with the Detroit Lions' newest additions, we're taking a closer look at linebacker Malcolm Rodriguez's film this week.
► Games watched: at Boise State (Sept. 18), at Texas (Oct. 16), vs. Oklahoma (Nov. 27), vs. Baylor (Big 12 Championship, Dec. 4), vs. Notre Dame (Fiesta Bowl, Jan. 1)
► Bio: Rodriguez was a star, multi-sport athlete at Wagoner (Oklahoma) High School. A two-way player for the school's football program that won three consecutive 4A state championships, he led the team in both passing and rushing as a senior, tallying 43 total touchdowns as a dual-threat quarterback. And as a safety, he was named first-team all-state by "The Oklahoman."
In wrestling, Rodriguez placed runner-up in the 152-pound weight class as a sophomore before winning back-to-back state titles, punctuated by an undefeated senior season. He was also an all-state relief pitcher, while also leading Wagoner with a .438 batting average as a senior.
After not generating much interest as a quarterback recruit, Rodriguez got a late offer from Oklahoma State to play safety. He made the switch to linebacker ahead of his junior season. A two-time captain, he earned first-team all-conference honors from both the Big 12 coaches and media in 2021, and was named either a first- or second-team All-American by numerous publications.
► Statistics: 2017: Nine games, 11 tackles (all on special teams)
2018: 13 games, 83 tackles (five for a loss), one pass defense, one forced fumble
2019: 13 games, 103 tackles (seven for a loss, 1.5 sacks, one interception, one forced fumble
2020: 11 games, 82 tackles (four for a loss), 3.0 sacks, three pass defenses, seven forced fumbles
2021: 14 games, 129 tackles (16 for a loss), three sacks, four pass defenses, one interception, four forced fumbles
► Athletic profile: Undersized for the position at 5-foot-11, Rodriguez possesses a stocky, muscular 230-pound frame with shorter-than-average 30⅜-inch arms. Between the combine and his pro day, he tested incredibly well, posting elite numbers in the 40-yard dash (4.52 seconds), vertical jump (39.5 inches) and the short shuttle (4.13), rubber-stamping the speed, explosiveness and agility he shows on film.
► Durability/motor: After earning playing time as a special teamer in the early stages of his freshman season, Rodriguez proved to be a model of durability, appearing in 60 consecutive games and making 48 consecutive starts.
A three-down linebacker, Rodriguez almost never left the field, playing with a tireless motor through the final whistle each week.
► Alignments: Playing the WILL linebacker role in former defensive coordinator Jim Knowles' 4-2-5 scheme, Rodriguez almost exclusively lined up 3-5 yards off the line of scrimmage, although he would occasionally be asked to pressure the interior gaps pre-snap.
► Instincts/awareness: One of the real strengths for Rodriguez is his processing power, particularly when defending the run or screen passes. He is able to quickly work through his keys and react when blockers pull or look to climb to the second level, allowing him to consistently be able to navigate through traffic to make plays.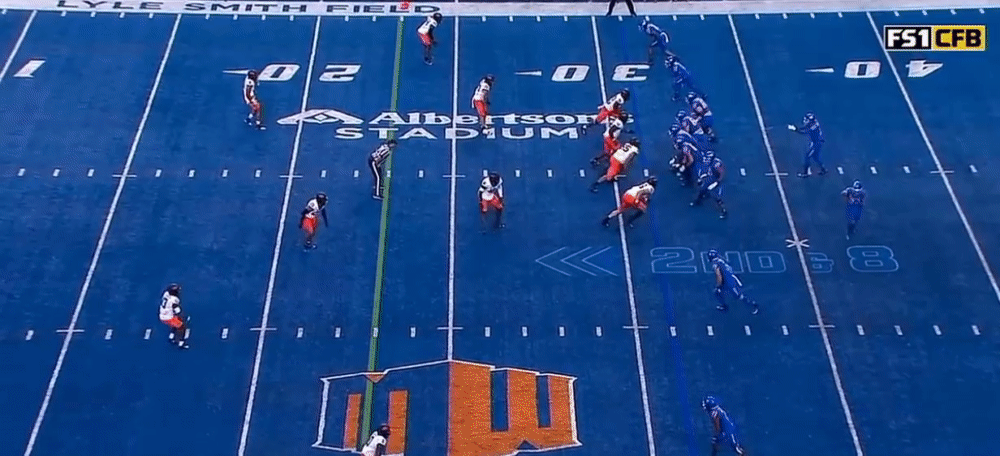 He's an excellent read defender, who has the speed and instincts to succeed when asked to spy on a mobile quarterback or check a dual-threat running back capable of leaving the backfield on a delayed route.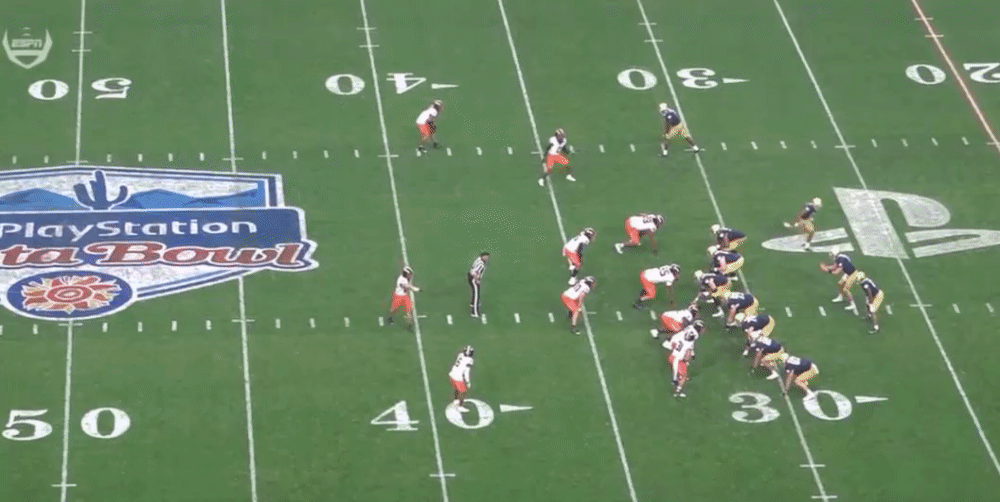 Because of his rush to shed blocks, the only time Rodriguez's instincts faltered came when he fell for fake blocks transitioning into routes, allowing a coverage assignment to slip past him free into the second level. He got beat for a big play by the tight end because of this tendency in the conference championship matchup against Baylor.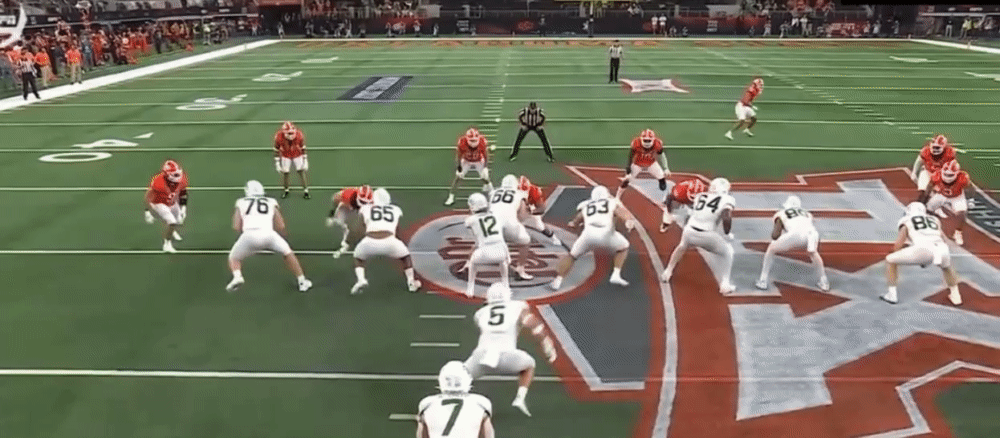 ► Run defense: As noted, Rodriguez processes blocking schemes well, allowing him to trigger and fire into gaps with minimal hesitation. He does an excellent job scraping, avoiding unnecessary contact on his path to the ball carrier, allowing him to make a steady stream of plays at or behind the line of scrimmage.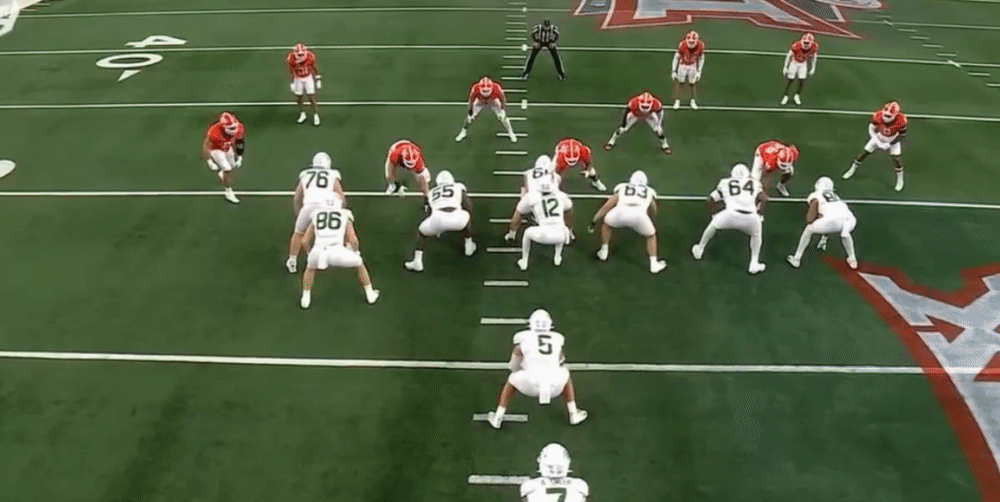 Rodriguez's length poses less of an issue than you might expect when he's engaged by a larger blocker. Rarely does he allow a lineman or tight end to lock into his chest, quickly shedding blocks while keeping his eyes in the backfield.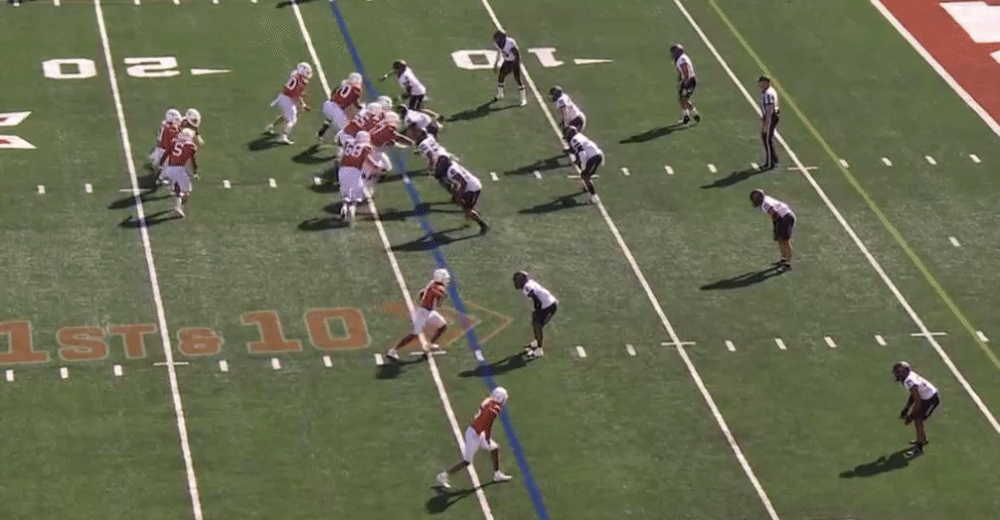 Cut blocks are ineffective against him. As a high-level wrestler, he defends low blocks like a double-leg takedown, firing his feet back and sinking his hips to maintain his balance, while using his hands to direct the blocker to the ground.
► Tackling: Rodriguez does a nice job getting his hips and shoulders square when addressing the ball carrier and consistently wraps up and finishes in close quarters.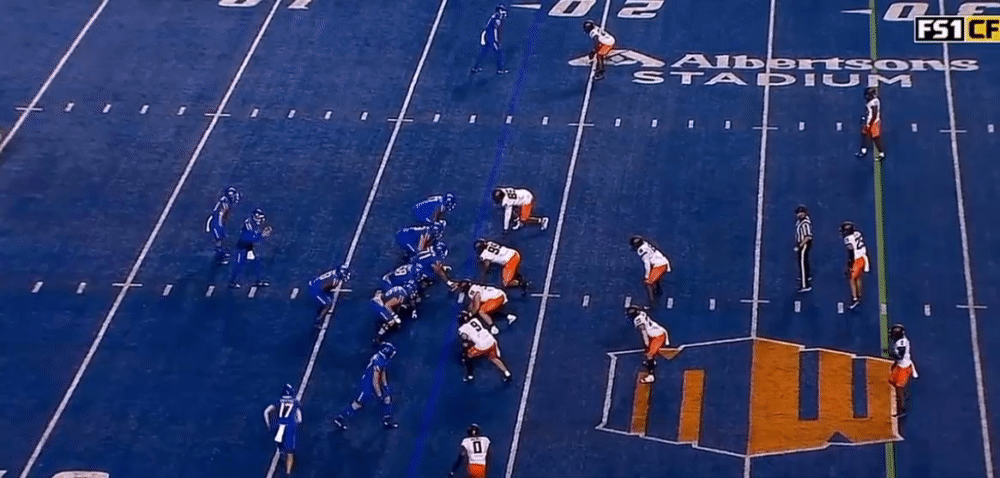 His length does present some issues with his tackling range in pursuit, as multiple ball carriers were able to escape his grasp when running away from him.
► Zone coverage: Early in the 2021 season, possibly due to schematic adjustments or new personnel, Rodriguez often looked unsure of his zone positioning. His feet would mirror his head, which was moving back and forth too much between the quarterback and what was happening behind him, resulting in inconsistent balance and a late trigger on throws to his area.
But as the season progressed, so did Rodriguez's comfort level with those assignments. Most of his pass breakups were the result of hard contact coinciding with the ball's arrival, as opposed to a play on the ball itself. His interception in the bowl game against Notre Dame was a culmination of improvements. On that play, he dropped cleanly and kept his focus on the QB, allowing him to read and react to the throw, extending to make a difficult catch away from his frame.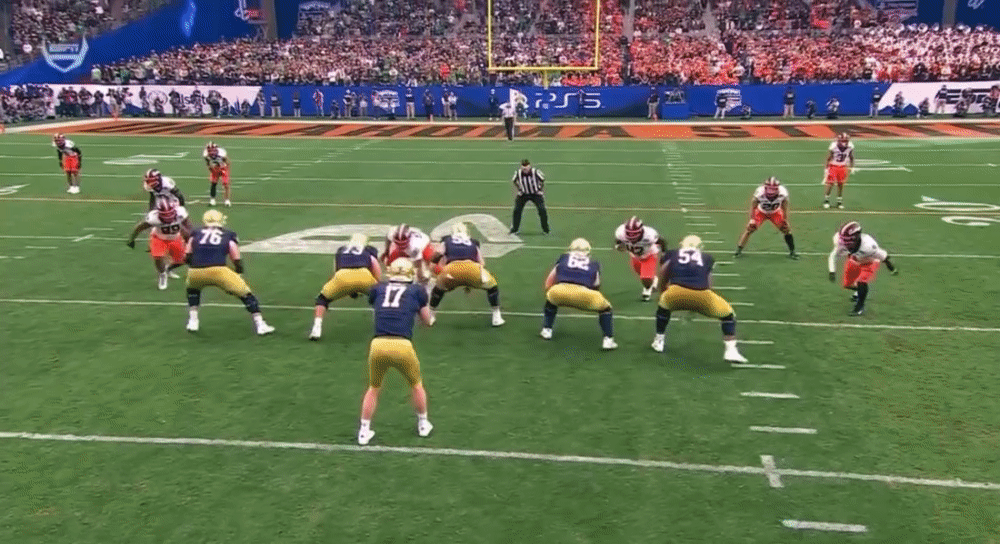 ► Man coverage: Like most linebackers in man coverage, Rodriguez is at his best when the play is in front of him. When tasked with shadowing a back out of the backfield, his speed and pursuit angles make it difficult for teams to have success throwing to the flat. That speed is also a valuable asset on wheel routes, as he can cleanly flip his hips and stay in phase downfield.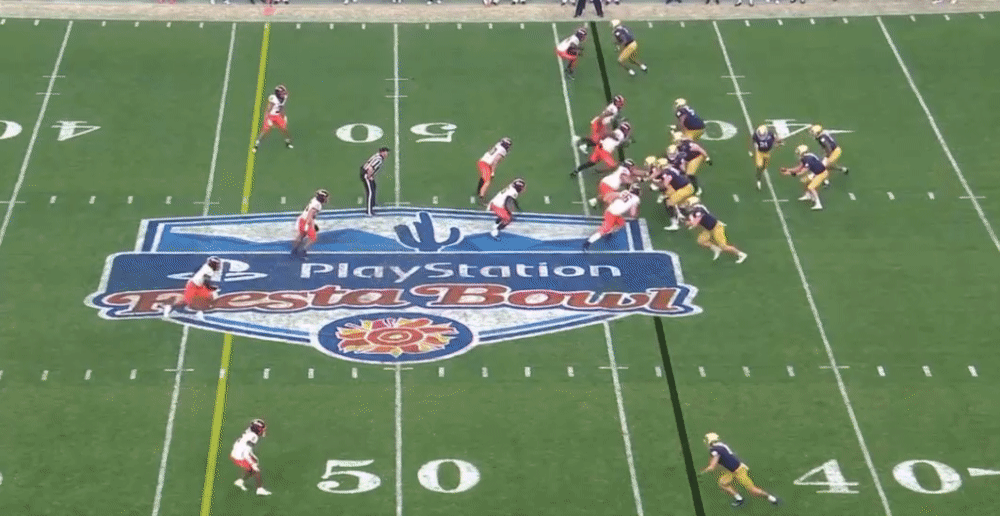 Against tight ends, Rodriguez has the bulk and plays with the necessary leverage to be physical at the line of scrimmage, with the speed/quickness to stick in his assignments back pocket on square routes.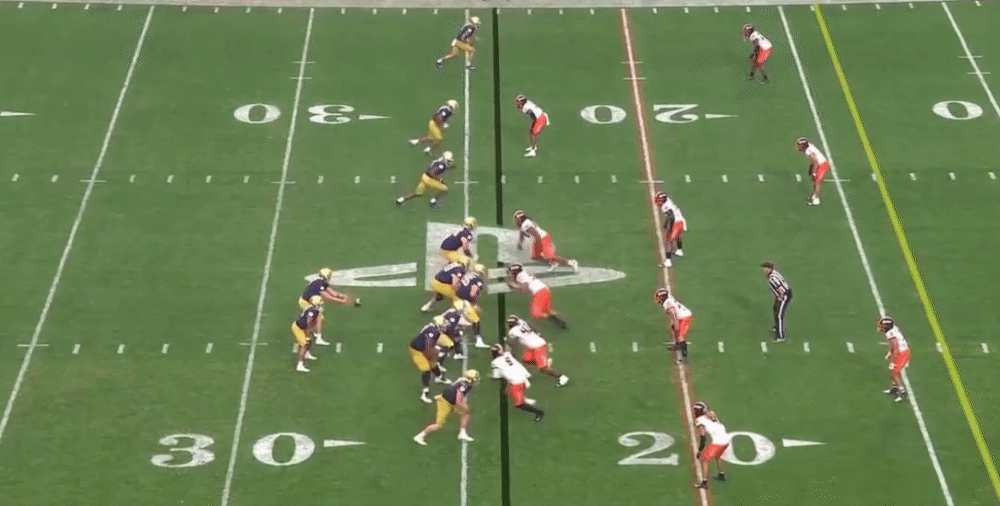 Oklahoma State also would frequently ask Rodriguez to fire laterally out of the box and redirect a slot receiver's vertical route. His execution of these assignments was inconsistent, as he would occasionally lunge, fail to make solid contact, sacrificing balance, which would leave him scrambling to re-establish his position within the play's design.
► Blitzing: Similar to a running back exhibiting patience for their lane to open, Rodriguez doesn't fire haphazardly into the line, but is methodical when blitzing, waiting for a gap to clear before trying to shoot into the backfield. He executes with a high rate of success, often avoiding contact on his path to the quarterback.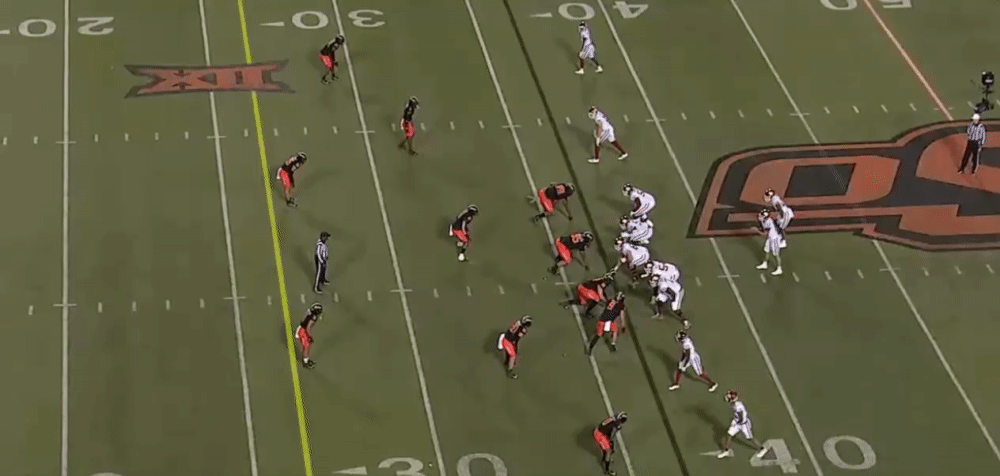 When his rush is picked up by a back, Rodriguez plays through the contact with force, power and leverage, maintaining much of his momentum into the backfield.
► Special teams: As noted above, Rodriguez generated plenty of special teams tackles at the start of his collegiate career. He continued to contribute on multiple special teams through his fifth-year senior season, working on punt protection/coverage, kickoff coverage and field goal block.
► Conclusion: Everything about Rodriguez's profile, dating to high school, screams competitor. His film shows a good athlete with an extremely high IQ for his position. Those traits have allowed him to find effective ways to negate the physical limitations of his frame.
He should be a dedicated and productive special teams contributor early in his career, and while there's no clear path to a defensive role this year, it wouldn't be surprising to see him force the issue with his practice habits and skill set. He can be a future starter at either the WILL or MIKE as Detroit transitions to more of a 4-3 defensive scheme this season.
jdrogers@detroitnews.com
Twitter: @Justin_Rogers