Big Mac, Twinkle Toes and The Dancing Bear. Alim McNeill has picked up quite a few nicknames during his season and a half with the Detroit Lions.
A third-round draft pick last year, McNeill has been a steady performer, but rarely an impact player. Such is the life of a 325-pound defensive tackle, where your size is used more to create opportunities for others than yourself.
But the Lions have repeatedly told us McNeill is a deceptively athletic bowling ball, who has more to offer than eating space and blocks. That belief is why the team shifted him out of playing much nose tackle this season to more 3-technique, a pre-snap alignment between the guard and offensive tackle.
Yet the game-to-game impact remained muted for the second-year player. Through nine contests this season, he had just two tackles for loss, two quarterback hits and zero sacks. It was a disappointing output for a player who generated significant preseason hype from inside the building.
But against the New York Giants, McNeill delivered a long-overdue breakout. Playing just 62% of the defensive snaps — his second-lowest mark of the season — he set the tone for his afternoon in the early minutes, sacking quarterback Daniel Jones on third down of the opening series, forcing a punt. That jump-started a performance that included 10 quarterback pressures and three tackles for loss.
To put that into context, McNeill totaled 10 pressures in the first nine games. He also had exactly 10 pressures in 17 games last season. He essentially provided a season's worth of production in a day. And according to Pro Football Focus, his pressure tally is the most ever by a player weighing 320 or more pounds in the site's 16-season history of charting data.
McNeill's dominance was a major factor in the Lions' 31-18 victory over the Giants, and because it was so unexpected, it felt worthy of being the focus of this week's film review.
Amusingly, the day actually got off to an ominous start, when veteran guard Mark Glowinski put McNeill in the dirt on the game's first snap while run-blocking. But that ended up being a rare win for New York's offensive line. Flipping to the right side and matched up against left guard Shane Lemieux, who was making his season debut, McNeill's strength and quickness immediately proved to be a mismatch.
After besting Lemieux's block on second down, but not getting home on a quick throw, McNeill clubbed the guard's inside arm on third down to get the edge and flashed impressively flexibility, bending back toward Jones to get the sack as the QB tried to avoid the pressure.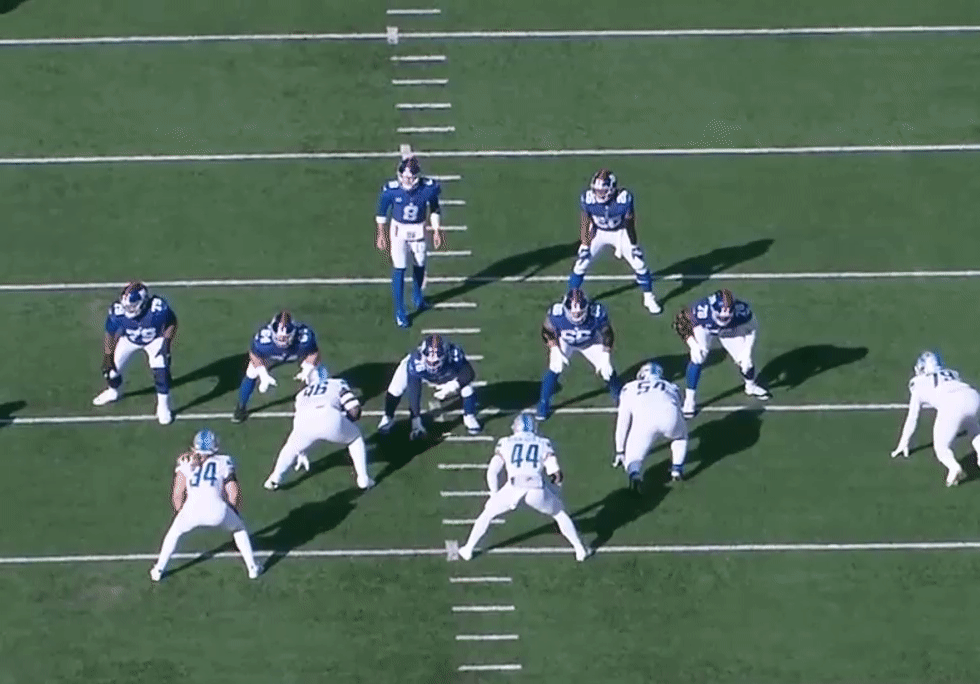 McNeill's showed up again early in the second defensive series, this time coming up with a run stop in the backfield.
Lined up as a 3-tech on the right side of Detroit's defensive formation, he flowed with the offensive line on an outside-run concept, maintaining his gap while fighting through a pair of blockers, leaving him in perfect position to drop Saquon Barkley when the back attempted to cut upfield.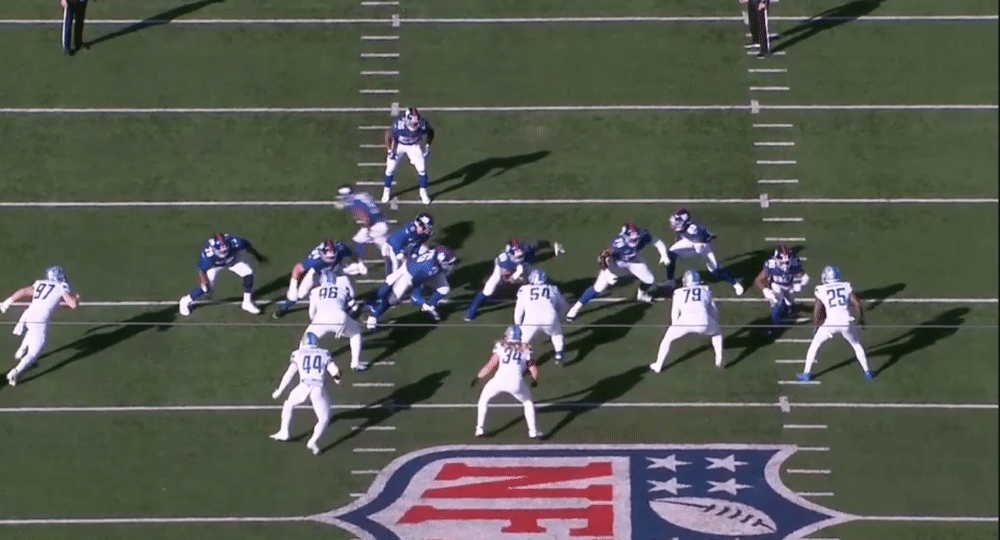 And later in the possession, McNeill showed his impressive power, driving Giants offensive tackle Andrew Thomas into the ground on another outside run out of shotgun, forcing Barkley wide, where he was dropped by cornerback Jeff Okudah after a minimal gain.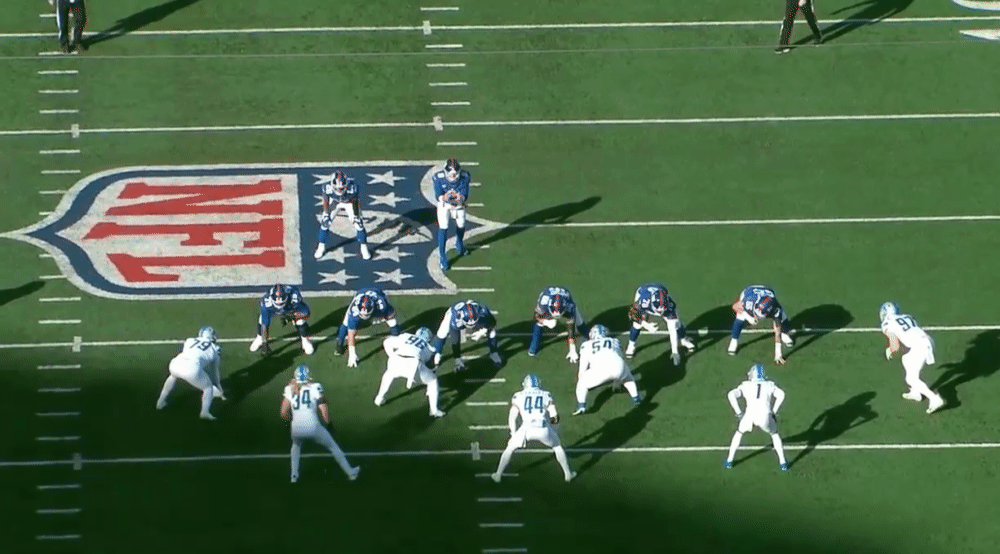 McNeill finally subbed out after playing the first 10 defensive snaps and the Giants took advantage, gaining 41 yards on four plays, capping their drive with a 3-yard touchdown run by Jones.
The defensive tackle was back on the field to start Detroit's next defensive series, and after seeing the first three plays go outside his sphere of influence, he was able to generate a second QB pressure, using leverage and burst to beat Glowinski inside.
The rush was enough to force the QB into an off-platform throw, but Jones still connected with his target on a drag route (although it was wiped out by an offensive pass-interference penalty).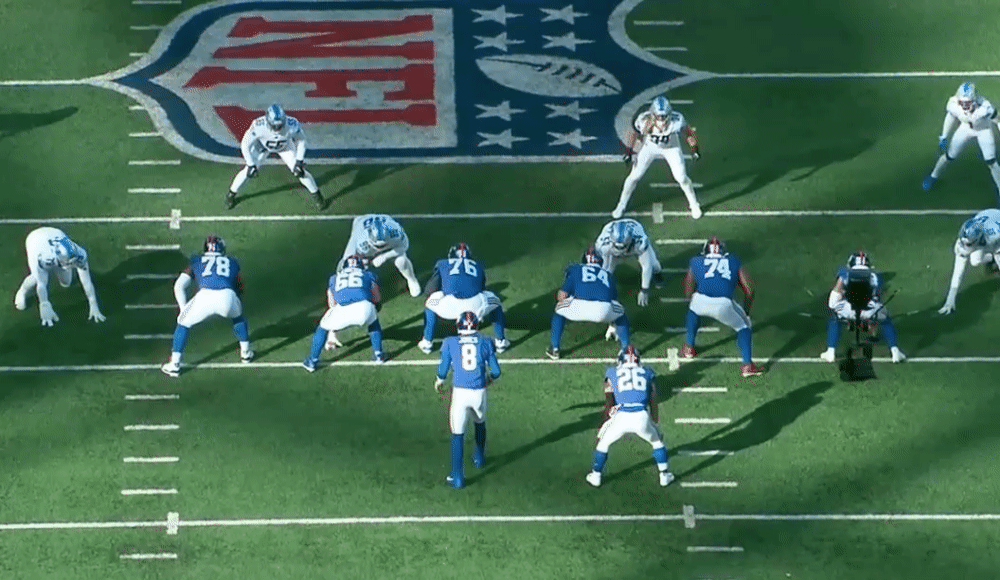 McNeill went quiet for a brief stretch, in part because Aidan Hutchinson ended New York's fourth drive after two plays, dropping back into Jones' passing lane and intercepting the throw.
And on the fifth series, a six-play drive that ended in a punt, the play went away from McNeil on four snaps, while he was off the field in favor of a speed-rush package on the final third down.
His lone impact during the possession came on a well-executed interior stunt, where teammate Benito Jones created a pick that allowed McNeill to loop around the center, but the ball was out before the pressure could get home.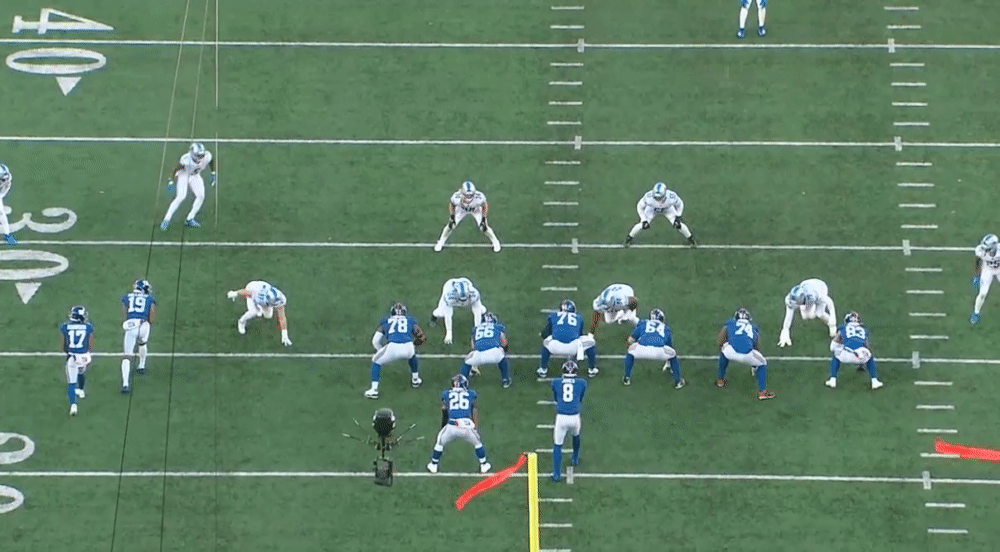 McNeill finished the first half strong, generating two hits and a quarterback pressure on three consecutive snaps.
His best effort was the first of the three, when he aggressively bulled Lemieux back into the pocket, hitting Jones and forcing an overthrow incompletion.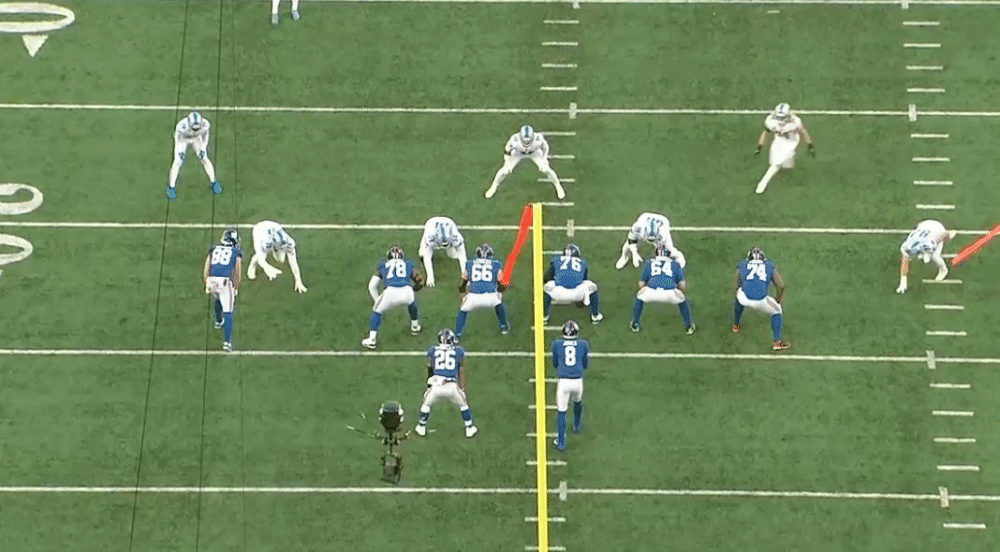 The second hit came after a failed spin move, which left him in position to pop Jones when the quarterback tried to step up in the pocket. That resulted in another altered throw and incompletion. And finally, McNeill flushed Jones in the pocket with a high-effort rush that took advantage of Detroit's coverage, forcing the QB to hold on to the ball.
In the second half, McNeill didn't have a notable impact on the Giants' first possession, which ended in an interception, but the big-bodied defender returned to the backfield for his third TFL on the next drive.
Doubled on the snap, the guard had to peel off to pick up linebacker Alex Anzalone, who was crashing hard into his run gap. That allowed McNeill to slice into the backfield, where he dropped Barkley for a 1-yard loss.
McNeill returned the favor later in the series, eating a double-team, as Anzalone came through clean up the middle on a blitz to deliver a hit to Jones, contributing to an incompletion.
As the Lions expanded their lead to three scores, McNeill was afforded some additional rush opportunities, adding a few more quarterback pressures down the stretch. He had another well-executed club on Joshua Ezeudu, but stumbled after beating the block. Still, it was enough to force Jones to scramble.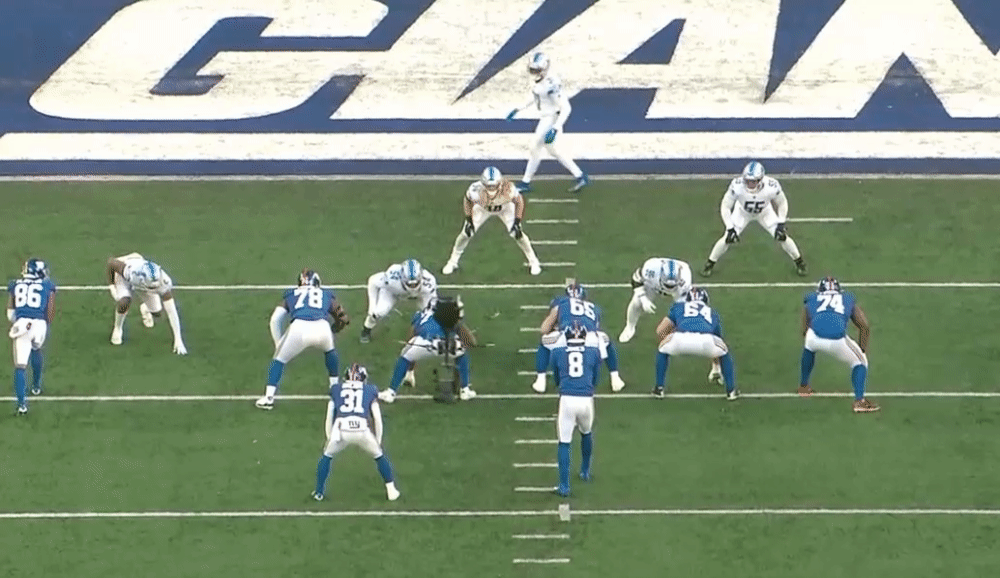 And McNeill showed the ability to win with a straight burst later in the fourth, quickly slicing past Glowinski and interrupting Jones' follow-through.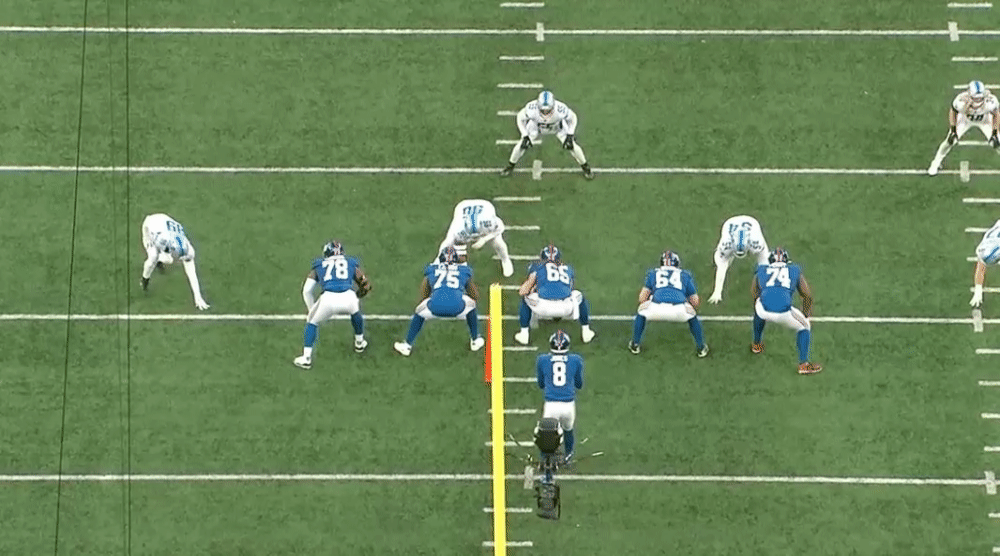 McNeill stayed on the bench for New York's final drive, a hurry-up effort with time running out. But clearly, he'd already done enough damage. The question coming out of the game becomes: 'What do we make of the sudden burst of production?'
Well, first and foremost, McNeill's usage was pretty consistent, with the majority of his snaps coming from 3-tech alignments, split between the right and left sides. Without question, some of the success had to do with the matchups. Lemieux has always been an awful pass protector, Ezeudu has been just as poor during his rookie season, and Glowinski has been a much better run-blocker than pass-protector throughout his career.
Still, 10 pressures is a heck of a day, regardless of the blockers. If nothing else, it should be a big confidence boost for the second-year tackle, especially since he won a variety of ways: Power, burst, bend and hand usage.
As a run defender, McNeill was only OK, although the two tackles for loss look good on the stat sheet. He still gets moved off his spot by doubles too easily, creating extra work for his teammates to defend widened gaps. But, when he had an opportunity against the Giants, he wrapped up and finished the tackle, which hasn't always been the case this season as he's adjusted to his new role.
jdrogers@detroitnews.com
Twitter: @Justin_Rogers