Bill Dow
| Special to Detroit Free Press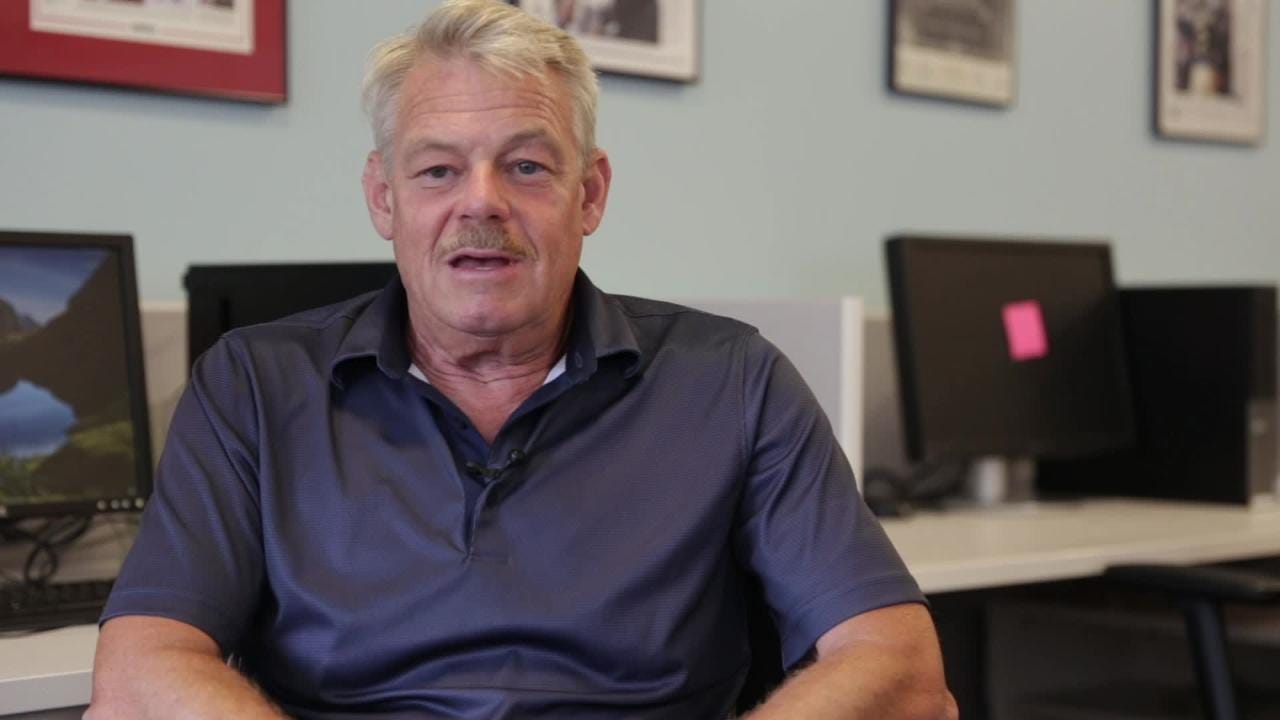 Show Caption
Hide Caption
Barry Sanders' retirement: Here's how it all went down
Former Detroit Free Press sports editor Gene Myers describes the night Barry Sanders retired and flew unannounced to London.
Free Press special writer Bill Dow continues his "where are they now" series about former Detroit Lions players.
Today's profile is on Mike Utley, who suffered a spinal cord injury during a game at the Pontiac Silverdome 29 years ago today:
How we remember him
After an All-American season at Washington State, the imposing 6-foot-6, 302-pound offensive lineman was drafted by the Lions as the 59th overall pick (Round 3) in 1989. In his rookie season, he became a starter to form a powerful offensive line with Lomas Brown, Eric Andolsek and Kevin Glover to pave the lanes for rookie of the year Barry Sanders. Utley suffered a broken leg in Week 5, and the following season he missed several games with injuries. In 1991, he started the first 11 games, but his career tragically ended on Nov. 17 against the Los Angeles Rams at the Pontiac Silverdome.
On the first play of the fourth quarter, as Erik Kramer threw a TD pass to Robert Clark, the Rams' David Rocker leaped to block the pass. As Rocker came down, his force pushed Utley to the artificial turf, head first. Unable to move, Utley gave the crowd a "thumbs up" as he was carted off the field. He was taken to Henry Ford Hospital, where it was determined his fifth, sixth and seventh vertebrae were shattered.
"Thumbs up" became a symbol for the Lions and their fans as the team dedicated their season to Utley. They won the last six games and their only playoff victory since 1957 before losing the NFC championship to Washington.
After the Lions
Utley spent a month in rehabilitation in Detroit followed and three and a half months at Craig Hospital in Denver. After living in Denver for six years, he moved back to the state of Washington. He gained use of most of his upper extremities, making him functionally a paraplegic and allowing him to skydive, scuba dive, drive a car and run his jet ski at 70 mph. In 1992, he established the Mike Utley Foundation, which has raised several million dollars to support research, rehab and education for those living with spinal cord injuries, while financially supporting patient/family assistance programs. He was inducted into the College Football Hall of Fame in 2016.
Today
Utley, 54, has been married to his wife Dani for 19 years. They live in eastern Washington. He once again is undergoing extensive rehabilitation following a 2018 corpectomy — a surgical procedure that removes part or all of the vertebral body. For now, it has limited his ability to travel and enjoy his previous activities, but he continues to closely follow the Lions and the NFL.
On joining the Lions in 1989
"The veterans were really hard on the rookies at training camp. They really don't want you there because they don't want to lose their jobs. You had to fight your way through it. I didn't mind the hazing, but I had to sing in front of the team. I tried singing by reading the lyrics to two songs by the group Cinderella and I was horrible. I earned my stripes at training camp, and when I was told that I was a starter, Lomas Brown came up to me and said, 'now we're going to take it to the next level and we're going to battle my good man.' The veterans then brought me in as one of their own."
His first game with Barry Sanders
"I actually started at right tackle that game. I remember pushing my guy out of the way, and I had never done this before in my entire life, but I stopped and watched Barry Sanders run. I looked over and four other guys are doing the same thing. We saw Barry on film before but when you blocked for him it was something else. We had never seen an athlete move like Barry. We all came back to the huddle and said, 'My God, did you see that?' From that day on we were on the field to protect the little fella. So, what did we do for Barry? We stayed out of his way! It was a privilege to play with him."
Mitch Albom: Making sense of Barry Sanders' retirement, 20 years later
Free Press columnist Mitch Albom talks about Barry Sanders' retirement and why it shouldn't have been a stunner.
The play that ended his career
"We were really coming together as a unit, and starting the first 11 games in 1991, I thought my voodoo injuries were over with. On that particular play, thank God I was winning against my man, David Rocker, and we scored a touchdown. Rocker caught my shoulder and pulled me down. My head hit the turf and that was it. I thought, "(expletive), here we go again.' As a football player we sometimes would get 'stingers.' I had lost sensation in my hands and hamstrings before, but this was different because I could tell right away that I had lost strength. I remember our trainer, Kent Falb, and team physician, Dr. David Collon, asking me what I could feel. I never wanted to be carried off a field, it's a personal thing. When I broke my leg as a rookie, I tried to walk off but a Viking said to me, 'Get down we could hear it break.' I knew I was in really big trouble. I could hear the crowd clapping for me and my teammates came up and said, 'We got this Mike.' When I was wheeled off, I gave the thumbs up because I wanted the fans and my guys to know that I heard them. I wish I didn't get hurt but it is what it is."
His first days at the hospital
"I was in the intensive care unit for the first nine days, in a step-down unit for three, and then on Thanksgiving night I was back in the ICU for 10 more days. My teammates Ken Dallafior, Eric Andolsek, and Shawn Bowens, all big lineman pretty similar to my size, were brought to the hospital to be used as models for creating my body cast. I felt bad and am sorry I put them through that. On Thanksgiving, the Lions had a television brought in so I could watch the game with my brothers and a close friend. They snuck in pizza for me and we got a little rowdy. That night, it was discovered that I had two blood clots and was rushed back into the ICU. At one point, they brought my brothers back in and I was given last rites. Almost kicked the bucket then. But I'm not the type to cry about it or piss on the campfire and then complain how cold it is. I move on very quickly. "
What he tells spinal cord patients
"Find a way to win and be an asset. Look in the mirror and decide what am I going to do to make my life better and make a difference. It's not easy. Everyone has different adversity and we all face it. Set a standard on how you are going to do things every day. If you can learn to do some things yourself, be strong, and stand up for yourself and be a role model."
What he missed about playing football
"As a player, I just absolutely loved the violence of it, the collisions. When my opponent is giving 100% and I am giving 100%, what else is there my good man? One is going to win and one isn't. You can search for that adrenaline rush after you stop playing but it can't compete with the game of football. But I also really miss the camaraderie in the locker room. We all loved it. I have absolutely no regrets that I played football and I would do it all over again if I could. I really have to thank Paul Tagliabue (former NFL Commissioner), the Ford family, and my attorneys for helping to get the insurance company to cover my medical bills and allowing me to remain a part of the Detroit Lions. I wouldn't be here today if it wasn't for them."
On his current condition
"Up to 27 years from the injury, I was doing pretty good. I was training very hard and got very muscular in my upper body and it overwhelmed my lower body. But in August of 2018, I wasn't feeling good and it was discovered that my T-9, 10 and 11 vertebrae were destroyed so I had a corpectomy. I now have rods on the sides of my spinal cord from T-5 to L-4. I was life-flighted twice to Colorado and those doctors saved my life. I have started all over again and a month ago, I began therapy twice a week. It's water under the bridge. My No. 1 goal is still to one day walk off of Ford Field but now I need science more than ever."