The Lions will clearly be looking for wide receiver help in the 2022 draft, and Penn State's Jahan Dotson has surfaced as a viable target.
Among many needs the Detroit Lions will have in the 2022 NFL Draft, and the offseason in general, is the wide receiver position. They will be able to go any direction with their two first-round picks and not be wrong, and it's possible a wide receiver will be the that second pick late in the opening round.
Jahan Dotson emerged as a top target for the Penn State Nittany Lions in 2020, with 52 catches for 884 yards and eight touchdowns in nine games. Through nine games this season, he has 71 catches for 932 yards and nine scores. Over the last two games, against Ohio State and Maryland, he has 22 receptions for 369 yards and three touchdowns (all three scores against Maryland).
Last Saturday, Dotson undressed the Terrapins' secondary just about every which way one could.
Jahan Dotson emerging as 2022 draft target for the Lions
Route running? Check. Speed? Check. Dotson is on the smaller side (5-foot-11, 184 pounds), but Jeff Risdon of Lions Wire was well-founded to have the Lions taking him in the second round of his recent mock draft.
Josh Edwards of CBS Sports has gone one better, tabbing Dotson to the Lions with their second first-round pick in his latest mock (projected No. 28).
Jahan Dotson can win at all three levels of the defense. I'm not sure if a safety and smaller wide receiver is what Detroit hoped to accomplish with two first-round picks, but that is how the board fell.
With no quarterback likely worthy of the No. 1 overall pick, and with other quarterback-needy teams perhaps fostering some kind of run on signal callers before they're on the clock again with the pick they have from the Rams, the Lions may be left to consider available quarterbacks on Day 2 of April's draft. A trade up is certainly possible if a quarterback they like falls into something like the mid-teens of the first round.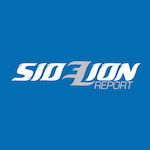 Want your voice heard? Join the SideLion Report team!
But if the board falls like it did in Edwards' mock, there really are no wrong picks late in the first round for the Lions in terms of pure talent addition. Dotson is garnering first-round acknowledgement, and even lacking protypical size he's lined up to be one of the first 4-5 wide receivers off the board.
The instinct here says the Lions should wait until the second or third round to take a wide receiver, and they'd get better value. It also feels like Dotson could wind up being overdrafted after teams miss out on the top couple wide receiver prospects.
But Dotson is someone who should be on their radar in Detroit, as no stone should go unturned in the effort to add talent to the roster. The Lions taking him in the first round should only be a coin-flip proposition though, and even if it's only a handful of picks later the second round is a better bet.