After a win over the Arizona Cardinals on Sunday, Jared Goff's former team owes he and the Lions a big thank you.
With a win Sunday over the Detroit Lions, the Arizona Cardinals could have clinched a playoff spot and taken no less than a one-game lead in the NFC West by the time Week 15's action concluded. But the Lions pulled the upset in dominant fashion, as Jared Goff threw three touchdown passes in a 30-12 win.
Goff is now 8-1 in his career against the Cardinals. He of course played Arizona a lot during his time with the Los Angeles Rams, before being traded to Detroit in the deal that sent Matthew Stafford the other way last offseason.
The Rams will play their Week 15 game Tuesday night against the Seattle Seahawks. The possibility of getting some of their long list of players back from the COVID-19 list increases the prospects they will win, though a loss to Seattle would be bad no matter the circumstance.
The Rams owe the Lions and Jared Goff a big thank you
If the Rams are very short-handed and lose Tuesday night, they'll stay one game back of the Cardinals in the NFC West. A Week 14 win over Arizona gave them a spit of the season series. If The Rams beat the Seahawks, they and the Cardinals will be 10-4.
During Monday morning's show, Kay Adams of "Good Morning Football" gave her Week 15 game ball to Goff. She also mentioned how the Lions and Goff did his former team a favor by beating the Cardinals.
Splitting the season series with Arizona was huge. But the Rams have intrinsically better odds to win the NFC West after the Cardinals shocking loss to the Lions, and their own Week 15 result actually might not be that huge (even if beating the Seahawks would be most ideal). The Rams will take on the Minnesota Vikings in Sunday action Week 16, while the Cardinals will play the Indianapolis Colts on Christmas night.
As nearly two-touchdown favorites over the Lions, Sunday's game was practically written in stone as a win for the Cardinals. It didn't work out that way. The Rams can thank their former quarterback and his new team for still having a real chance to win the NFC West heading into the final three games of the season.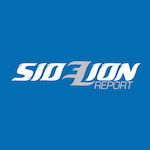 Want your voice heard? Join the SideLion Report team!