D'Andre Swift is being pushed to cash in on his potential this season, and the Lions' No. 1 running back has a big goal in mind.
Entering his third NFL season, Detroit Lions running back D'Andre Swift has something to prove. For all the promise he has shown over two seasons, he has missed chunks of time in both campaigns and that has stopped him from reaching his full potential.
As further evidenced during this week's episode of "Hard Knocks", Lions running backs coach Duce Staley is making it a priority to push Swift to reach his highest level this season. It appears Swift is receptive to being pushed like that, which is to his credit.
But ultimately, the motivation to be great has to come from inside. No coach can give you that in full, if you don't have it somewhere in you already.
A coach can give a player the confidence to aim for high goals though, realistic or not. Staley apparently has Swift believing, big time.
D'Andre Swift has big goal in mind for 2022
Swift have more than 1,000 yards from scrimmage in 13 games last season, with 617 rushing yards and 452 receiving yards. That production practically game in just 10 games though, due to leaving one game very early and having a limited workload in the final two games of the season when he returned to action.
It's easy to see Swift's potential, if he can stay on the field.
Via Tim Twentyman of the Lions' website, Swift has put a big goal out there for this season.
Three players in NFL history have put up 1,000 yards rushing and receiving in the same season– Roger Craig (1985–1,050 rushing yards, 1,016 receiving yards), Marshall Faulk (1999–1,381 rushing yards, 1,048 receiving yards) and Christian McCaffrey (2019–1,387 rushing yards, 1,005 receiving yards). Since the AFL-NFL merger in 1970, four running backs (add Lionel James in 1985) have had a 1,000-yard receiving season.
So Swift is setting a goal at a very exclusive, historic level of dual threat production for his third season. While he isn't likely to get to 1,000 yards both rushing and receiving, he could do well enough to put himself into an "on-pace" conversation at some point.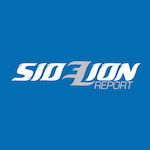 Want your voice heard? Join the SideLion Report team!