Allen Park — It was the week following his debut, after James Houston had introduced himself to the world with two sacks in five snaps during the Detroit Lions' annual Thanksgiving Day game.
With that kind of production, the team wasted little time loosening the grip on the figurative leash. Houston, admittedly raw, still wasn't ready to be thrust into a full-time role, but five snaps weren't going to cut it going forward, either. So, with the Jacksonville Jaguars coming to town, the workload more than doubled.
And just like on Thanksgiving, the impact was instantaneous. On Houston's first play on the field, late in the opening quarter, he bent around left tackle Cam Robinson and laid a hit on Trevor Lawrence just as the ball left the quarterback's hand.
Houston couldn't have done much more. He looked as if he was shot out of a cannon on the snap and wasted next to no motion turning the corner, but the play design had the ball out quickly. Still, it was a sign of things to come, and when the Jaguars were trying to put some points on the board at the end of the first half, desperately attempting to stave off the coming blowout, Houston got home with emphasis.
The sack was arguably the most memorable of the eight Houston racked up in the final seven games of the season. Standing up in a wide alignment, Houston took two strides toward Robinson, as the tackle tried to cut off the angle with his kick slide. Then came the changeup, as Houston slowed his feet with a giant skip step. Robinson paused, unsure of what was coming, so when the rookie defender slammed on the gas as both feet hit the turf, the lineman had no shot of recovering.
Houston got the corner with ease, obliterating Lawrence to end the half.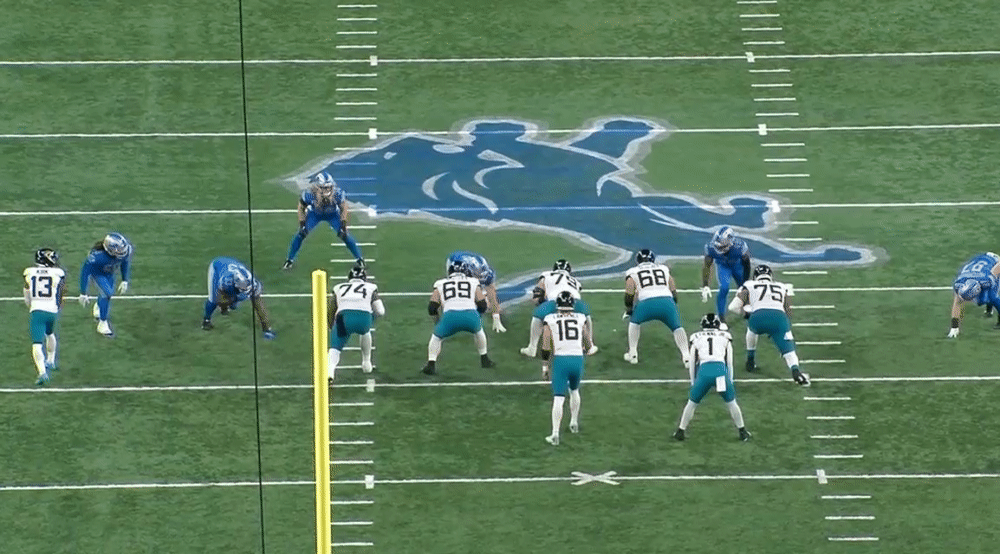 The move to get to the quarterback was as unorthodox as it was jaw-dropping, but it wasn't something concocted in the spur of the moment. It had been taught, practiced, and in this instance, executed to perfection.
Months earlier, the rush concept was introduced during a film session with retired Pro Bowler Chuck Smith, a guru with 20 years of experience training and teaching the art of the pass rush. As part of his mission to develop and mold many of the league's top rushers, he's been dipping into the vault to bring back techniques he feels have been lost to time.
In this instance, Houston both emulated and evolved a move known as the "dead man," which had been the result of a happy accident 44 years earlier for another Detroit Lions rookie, Al "Bubba" Baker.
'The dead man'
The Lions had high hopes for Baker when they drafted him in the second round out of Colorado State in 1978, but no one could have anticipated the impact he'd have as a young NFL player.
Sacks were four years away from being recognized as an official stat when Baker entered the league, but while the number remains uncertified, video research has verified he racked up an NFL single-season record 23.0 sacks as a rookie. And while he never was able to match that total again, he remained highly productive throughout his 13-year career, topping double-digits on six occasions and bringing down the quarterback behind the line 131 total times.
Baker's play was a mix of cerebral, athletic and violent. He always had a pre-snap plan, which started with strong get-off and ended with a desire to punish the quarterback. In between those two actions, he had an array of pass-rush moves. One of his favorites was an arm-over technique, which he borrowed from another legendary pass rusher from that era, Hall of Famer Jack Youngblood.
Baker practiced the arm-over religiously, and not just on the football field. He performed it on his mailbox at home, parking meters, his wife and even his children. Mastery came through repetition, and for it to be used effectively, the timing had to be as close to perfect as possible.
Baker was always looking for ways to disrupt the timing of an opposing offensive tackle, and in the preseason of his rookie season, he stumbled into a technique he'd wind up incorporating into his repertoire for the remainder of his career.
As he did that and every snap, Baker burst off the line, but in his peripheral he saw the ball hit the ground as the result of a bobbled snap. He momentarily paused to assess the situation, causing the offensive tackle to do the same. But when Baker noticed the QB had been able to scoop the ball back up and resume his drop back, the defender re-accelerated, easily besting the confused blocker.
In that moment, a light bulb came on.
"I thought, 'What the heck?' This is what a young pass rusher needs to understand: the offensive lineman doesn't know where the quarterback is," Baker told The Detroit News. "I said, 'Oh, my God, I never thought about it that way.' They're used to taking their kick-step — one, two, three — and then putting their hands on you. I stopped, looked at the ball, the tackle stopped, and I just blew right by him.
"I said, 'Oh, man, let me try this in practice with (former Lions offensive tackle) Karl Baldischwiler one-on-one," Baker continued. "First time I did it, he just stopped. And they're so big. They want to kick-step and want to cut you off. If you throw that move in with games and stunts you're running, they're looking for that stuff, so if you learn how to set a guy up, and build things up, that move can work."
For Baker, it was another move for the arsenal, something to be set up through the course of the game. And although Smith comped it to an off-speed pitch, Baker had a different, more violent analogy.
"The dead man, in particular, it's like Mike Tyson's uppercut," Baker said. "You hit the guy in the side, bend him over and you uppercut him and try to tear his head off. It's a knockout move on third-and-long or second-and-long."
Another 'Silver Rush'
Place the rushes side-by-side and Baker and Houston's don't look identical. The body types are different, as is how they change speeds, but there's an undeniable element of symmetry, just like there's overlap with the way their careers started in Detroit.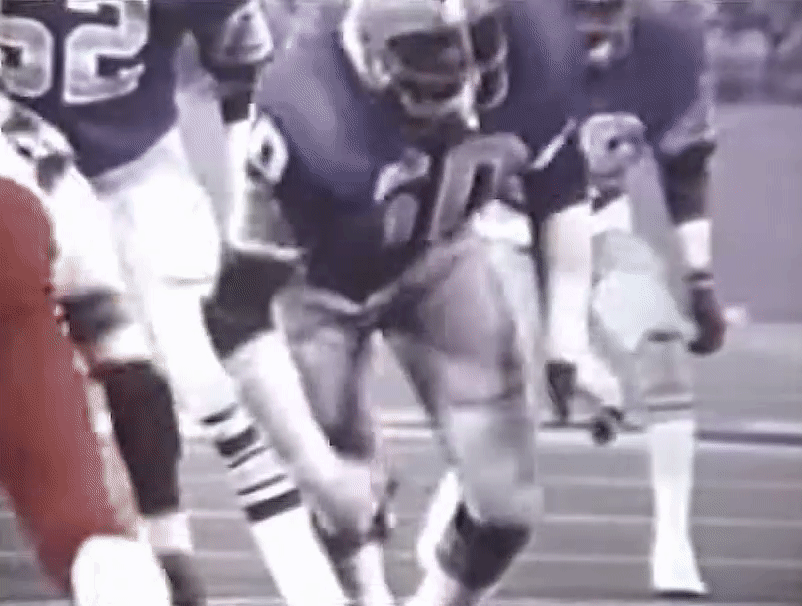 Unofficial or not, Baker set sack records as a rookie. So did Houston, albeit with a far smaller sample size. Since 1982, when the stat became recognized, no player has recorded 8.0 sacks through six games like the sixth-rounder out of Jackson State did this past season.
After his retirement in 1990, Baker lost interest in football. He moved on to other ventures, most notably an appearance on "Shark Tank," where he pitched and got an investment for his Bubba Q boneless ribs. More recently, he's been writing and providing the art for a soon-to-be-released graphic novel.
But, when Baker's sack record started getting acknowledgment in 2021, leading to a piece with the NFL Network, he was drawn back to the game. Like many NFL fans, he loved the Red Zone channel and the recent resurgence of the Lions hasn't gone unnoticed.
Houston, in particular, caught Baker's eye.
"Right away, I could see James Houston is really special," Baker said.
And while he doesn't claim to be a professional scout, he believes the Lions are a penetrating defensive tackle away from really causing nightmares for opposing offensive coordinators.
"They have the makings of another Silver Rush, and maybe even something better," Baker said, referencing the nickname of Detroit's dominant front four from his playing days. "They have to be able to occupy (the middle), like Curley Culp did when he came for us in '80. I loved him because he shortened the corner.
"…They just need one more big man who can do both — stop the run and rush the passer," Baker said. "I'm talking about a guy that pushes that pocket back. I think if they do that, they can be better than the Silver Rush, because they've got the two pieces, the most difficult pieces to find."
Continuing the rise
Reaching the heights of the Silver Rush, a front four led Baker, Doug English, William Gay and Dave Pureifory that struck fear into quarterbacks in the late 70s and early 80s, would be a welcomed change for Detroit's pass rush. After struggling to affect the quarterback for years, the signs of a resurgence in 2022 were undeniable.
The team's 39 sacks marked a 30% increase from the previous season and the Lions ranked in the top 10 in pressure rate. The continued improvement of Aidan Hutchinson, a finalist for Defensive Rookie of the Year, feels like a given. Houston, despite bursting onto the scene at the end of last season, is still something of an unknown.
At his year-end press conference, Lions general manager Brad Holmes, who, like Houston, played on the defensive line for an HBCU, share the emotion of seeing the rookie's first sack come on his first snap. But, Holmes was careful to avoid superlatives when talking about Houston's future.
"It's not out of the realm to say that he has starter-level traits and abilities; rather, he'll become that, but I think he's got the ability to be as good as he wants to be, and I've got a lot of faith in that because I know how he wants to work," Holmes said. "We've had a lot of conversations, going back to training camp on things he needs to work on, and, I mean, he is always just like, 'Yes, sir. No, sir.' Really smart kid, and all of that production you saw, I couldn't tell you how many times he was after practice in that indoor or outside (facility) just working on his craft, just working on his craft."
Houston has no intention of easing up or resting on his laurels. He's intending to work with multiple coaches this offseason, including Smith, one of his disciples Javon Gopie (known as "The Sack Sensei") and Brandon (B.T.) Jordan, who, after years of private tutoring, was hired by Michigan State last year.
"I feel like I haven't perfected anything," Houston said. "I'm just really working on adding everything into my arsenal right now. I don't have anything where it's like, 'This is my move.' I just have to continue to work and continue to elevate those moves so that they work almost every time I use them."
Smith, who played with Houston's college coach, Deion Sanders, in Atlanta, is eager to continue the development the two started with a seven-week draft-prep course last offseason.
"James Houston, in seven weeks, he never turned down the work. It's hard and he put in the work," Smith told The News. "What I told him in my first lesson: 'You're like the Transformer, Optimus Prime. You can transform into a Mike, Will, Sam, edge. If you need to be on the line on third down, you can rush, hand in the dirt (or) standing up.
"With pass rush, it starts with developing movements," Smith said. "When I'm talking about movement, I'm talking to him about learning to use his bend and be under control, where you can take guys inside, take them outside. I want him to see pass rush differently, to understand, 'I've got good bend, I'm an athlete, but let me add some skill in there, learning how to set up moves. Understanding when I'm in a two-point stance, what foot I should push off from,' teaching James the proper angles you take toward the offensive linemen, explaining that it's a learned knowledge and your athleticism can only take you so far."
Finding a comp
So far, those lessons, combined with the knowledge Houston received from Detroit defensive coordinator Aaron Glenn and position coach Todd Wash, seem to be taking hold.
And Houston's sudden production has led to some fun comparisons. Glenn and Wash have mentioned Yannick Ngakoue, another undersized but productive edge rusher Wash previously coached in Jacksonville. And Holmes said he saw a passing resemblance to Robert Quinn, who racked up the majority of his 102.0 career sacks when he and Holmes were both with the Rams.
Smith, who has been around as many edge rushers as anyone, boasting a current clientele list of 96 NFL players, paused to reflect when asked his thought on who Houston resembled. Smith didn't agree with the Ngakoue comp, having worked with that player since his time at the University of Maryland.
At first, Smith equated the movement and skill set overlap with a future Hall of Famer, before settling on a familiar name locally, former University of Michigan standout Josh Uche. He racked up 11.5 sacks in his third season with New England in 2022.
"I think with some of the moves James is using right now, I'd more compare him to a smaller version of Von Miller," Smith said. "What I'm saying is Von uses speed and quick change-of-direction moves. I'm not saying he's Von, or he'll become Von, but the types of moves he's using have to deal with speed, bend and change of direction, like Von.
"James is going to use those kinds of skills," Smith said. "He's not going to be using a ton of power, like you see with Hutchinson with strike moves and swimming off those. From that standpoint, he's more like Von or Josh Uche from New England."
The 6-foot-3, 245-pound Uche also uses Baker's 'dead-man' move after learning it through Smith.
And there's definitely a little bit of Baker in Houston, too. The Lions legend might have been bigger than Houston, but he had that same instant acceleration.
"I could beat (former Lions running backs) Dexter (Bussey) and Billy Sims for the first 10 yards (of a sprint)," Baker said.
Houston will spend this offseason refining his techniques, trying to build consistency and reach the next level, whatever that may be. What does leveling up look like after 8.0 sacks in 140 snaps? I quip, asking if he's going to rewrite the record books with 30 sacks in a starting role.
Teammate Jameson Williams, the speedy rookie receiver whose locker butts against Houston's, snickered at the comment.
"He just might."
jdrogers@detroitnews.com
Twitter: @Justin_Rogers