Last week was fun. We picked four Detroit Lions that could have the most success against the Chargers based off stats and analytics. We did pretty good too. Three out of four isn't bad.
We're back to do that again this weeks. We've done all the deep diving we can do and here's the four players that can really have a big day against the Bears.
Amon-Ra St. Brown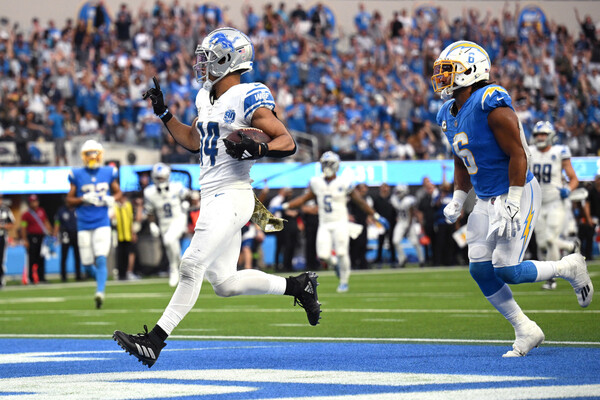 Orlando Ramirez-USA TODAY Sports
St. Brown seems to be having a big day against every team he laces his cleats up against. He could have another big day against the Bears on Sunday. It's not the league leading 252 receptions allowed that has me feeling this way. It isn't necessarily the 2,482 yards allowed either. That's the third in the NFL by the way.
It's the league leading 1,292 yards after the catch that has me interested. The reason being is that St. Brown is 10th in the NFL in yards after the catch. St. Brown is very good at grabbing the catch and then doing something with it. That could hurt the Bears a lot on Sunday.
Jameson Williams
Things have been coming along slowly for Williams, but they've been coming along nonetheless. If you're just looking at the stats from Sunday's win over the Chargers, you're not seeing how much Williams improved in that game and how much more the Lions had him involved. I think he's even more involved against the Bears on Sunday and could put up a big play or two. The reason why is because this Bears defense is susceptible to the big play.
They're not as bad as other teams. But the Bears have allowed 468 deep passing yards this season per FTN. Quarterbacks have a 41.9% completion percentage on the deep ball against the Bears. That's sixth in the league.
Williams is a big play player in theory. This team represents the opportunity for him to make a big play and maybe even have that breakout game everyone so badly wants to see from him.
Alim McNeill
The Bears are sixth in the NFL in sacks allowed with 30 this year. Of those 30, eight of them have come from the interior. The Bears offensive line is weak in that area. Here's the PFF grade for each guy:
McNeill is currently the fifth highest graded interior defensive lineman in the NFL. He's right behind Aaron Donald on that list. We've seen McNeill up his pass rushing game this year after dropping weight. He's racked up four sacks this year. This is a game where he can do some damage if the Lions are able to keep Fields in the pocket. He could also help prevent the run.
Here's the thing. Justin Fields is going to try to get out of that pocket. Everyone in the building is going to know that on Sunday. The Lions are one of the best teams in the league at getting pressure. I know it doesn't seem that way becasue they don't have a ton of sacks, but the Lions have the second most hurries in the NFL. They're 12th in pressures as well. They will get there and cause him to run out.
That's where Jack Campbell comes into play. He hasn't done much in coverage, but he's been a solid tackler and a solid run stopper. Campbell's job on Sunday is to just follow Fields whereover he goes. If Campbell can anticipate Fields next move and be there to try to stop him, this should be a very big game for him.
He should get help from Alex Anzalone and Brian Branch in this regard too. This is a bit of reach for me, but I think Campbell has been solid against the run and this team is going to want to run in multiple ways. We'll see on Monday if I was right.