Jeff Seidel

| Detroit Free Press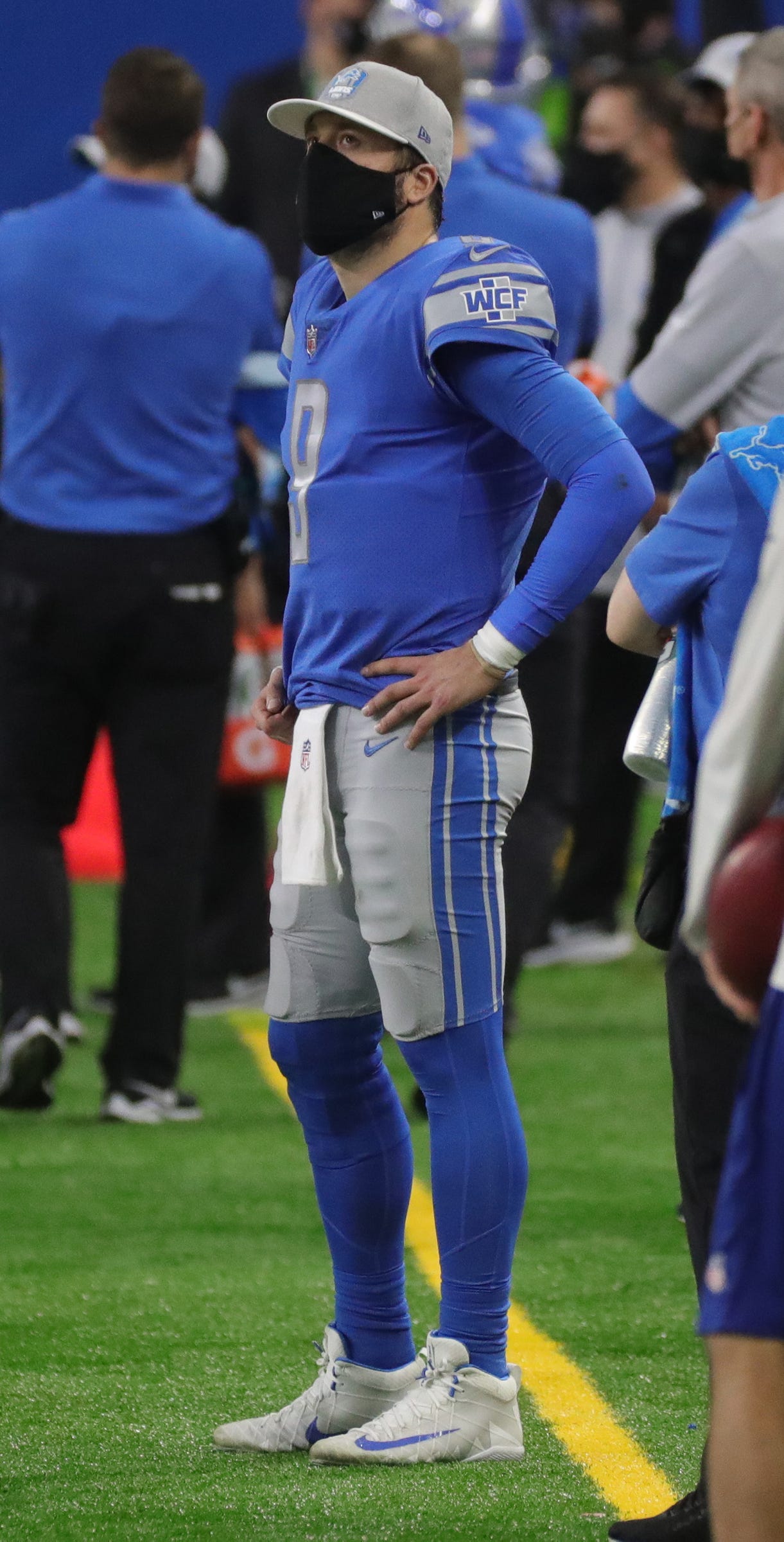 Show Caption
Hide Caption
Detroit Lions' Matthew Stafford reacts to Dan Orlovsky's latest tweet
Detroit Lions' Matthew Stafford asked Jan. 3, 2021, about Dan Orlovsky tweeting that Sunday's loss vs. the Vikings should be his last game as a Lion.
Detroit Lions
The calendar flipped, and hope has arrived.
Finally, we have a new year — good riddance, 2020. And suddenly, thankfully, there are several positive signs for the Detroit Lions.
Matt Patricia and Bob Quinn are long gone — that, in itself, is a massive positive, if only through addition by subtraction.
The Lions lost their season finale on Sunday against the Vikings, a 37-35 debacle that felt like more like a win than a loss because it helped them improve their draft position.
GRADES: Lions' dreadful defense, awesome offense. Coaching?
And owner Sheila Ford Hamp is taking her time, showing patience and thoroughness while searching for a new general manager and coach, getting advice and help from Chris Spielman.
Check my eggnog, just to make sure it's not still spiked if you must, but those are all positive signs for an organization that rarely does anything right. I realize Hamp has to hire the right people to turn this organization around, and you have every right to be cynical wondering if that can happen. The Ford family, um, doesn't exactly have a track record for many successful hires. But I'm willing to give her a chance. Because some year, some decade, some century, this has to change.
WHAT ABOUT COACH?: Marvin Lewis has talked to Lions about coaching job
"I believe in what they are trying to do," Spielman said during the TV broadcast. "The biggest thing is leadership, culture and understanding how to get the most out of guys."
You can only do so much
Think of this season this way: The Lions finished with a 5-11 record with the worst defense in franchise history.
That's remarkable when you think about it. And all of the credit goes to Matthew Stafford, who played Sunday despite a bad ankle, a bad thumb and a bad ribs. He showed his typical, exemplary toughness on Sunday. And somehow, it seemed fitting. He kept this team in the game, even though the defense was horrendous. Which is the story of this season.
Stafford kept fighting, kept competing, playing in a meaningless game, trying to create some offense, even though the game meant nothing.
And that sums up his career in Detroit.
[ Lions 2021 schedule: Here are the opponents, home and away ]
"I just go about my business and go about my day to day and try to help this team win," Stafford said.
If this is the end for Stafford, he should be remembered for being the official Band-Aid of this organization. Good enough to mask problems, like a horrendous defense or going several years without a running game. But not good enough to lift it to championship heights because, well, he's not Superman.
I have written several times that the Lions should draft a quarterback in the upcoming draft.
And if a new general manager can flip Stafford into a significant haul of draft picks, I'd do it in a second, because this team is years from competing for a title and it's hard to rebuild an organization with an aging quarterback.
But if I had to guess, Stafford will be back next season, if only as a mentor to the future QB.
Shoot for the stars
Will Matthew Stafford consider leaving Detroit Lions this offseason?
Detroit Lions QB Matthew Stafford talks Jan. 3, 2021 about if he'll consider leaving the team following its season-ending loss to the Vikings.
Detroit Free Press
While the Ford family should have fired Quinn and Patricia after last season, it could be worse. Think of the predicament that the organization would be in if Ford Hamp would have waited until after this season to do it.
But she fired them after Week 11 and the organization has already interviewed three in-house GM candidates and former general managers Scott Pioli, Thomas Dimitroff and Rick Smith, as well as ESPN analyst Louis Riddick.
NFL Network's Ian Rapport reported that the Lions plan to pursue Seattle's GM John Schneider for their vacant GM opening, "a hire that would send shockwaves" through the league.
Will they get him? No idea. But I love that Ford Hamp is shooting for the stars.
Why take this job?
I firmly believe a competent general manager could fashion a better defense, even with spare parts, than what Quinn and Patricia did. Shoot, just bringing in some guys who know how to tackle and rush the quarterback would be a massive improvement.
The offense has some fine pieces at center, left tackle, tight end and running back.
But the problems go deeper than the roster. The entire organization needs an overhaul. This is not a fixer upper. It should be an complete construction. Set a new foundation. Create a new culture. Take your time. Do it right.
[ Lions robbed by one of the worst calls ever in game vs. Vikings ]
And that means, Hamp has to find the right GM and the right head coach.
This is not rocket science. It's just football. If Hamp hires the right people, everything can change, as long as she follows some simple rules: Be bold. Don't be cheap. Don't settle. But most of all, before making a decision that will impact this organization for the next decade, she should ask herself: "What would my father and mother do?"
And then do the exact opposite.
Contact Jeff Seidel: jseidel@freepress.com. Follow him on Twitter @seideljeff. To read his recent columns, go to freep.com/sports/jeff-seidel/.