Former Lions first-round pick Eric Ebron is still available on the free agent market, and he has been tabbed as a top fit for another NFC North team.
During the slowest time on the NFL calendar, there are some notable names still available as free agents. One such name is tight end Eric Ebron, the 10th overall pick by the Detroit Lions in the 2014 draft.
It may seem unbelievable he qualifies for such a list, but Ian Wharton of Bleacher Report has Ebron on his recent list of the 10 best unsigned NFL free agents under 30 years old. Ebron turned 29 in April.
Wharton named some teams as "best fits" for each player he listed. The Lions were not deemed a team fit for any of the 10, but one of the fits for Ebron is interesting in a way.
The Cincinnati Bengals, Philadelphia Eagles and Minnesota Vikings were Wharton's "best fits" for the former Lions' top-10 pick.
Is former Lions' first-round pick Eric Ebron a good fit for the Vikings?
Since his four seasons with the Lions, Ebron has spent two seasons with the Indianapolis Colts and then last two with the Pittsburgh Steelers. He ended last season on IR after knee surgery, but in mid- February he tweeted that he'd been medically cleared.
Ebron only had 12 catches in eight games last season, but in 2020 he was pretty productive for the Steelers (56 receptions for 558 yards and five touchdowns). He has four 50-plus catch seasons on his resume, with the best year of his career coming in 2018 with the Colts (66 catches for 750 yards and 13 touchdowns).
Irv Smith Jr. is Minnesota's clear-cut No. 1 tight end. But he's coming off a knee injury that cost him all of last season, and the depth behind him got thinned further with Tyler Conkin's departure in free agency this offseason.
Ebron would add experience as well as a red zone weapon to an offense and a tight end depth chart–be it Minnesota's or someone else's.
Including Ebron and his potential fit with the Vikings, there's a chance that not one but two notable former Lions will end up with an NFC North team between now and the start of training camp.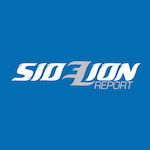 Want your voice heard? Join the SideLion Report team!